… A bohemian getaway for your tribe
Our 10 whitewashed casitas, all hidden in a lush garden by the pool, are designed especially for happy bunches of friends, funky families or inspired coworkers.

Each casita is built to be comfortably shared by groups of 2 to 10 guests per casita and we can accommodate up to 65 persons! (more about)
Gather and create in Ibiza
La Pandilla builds community through the arts to create an open and inspired world. Through our workshops, classes, talks, creative strolls, podcast studio and residency programs we intend to encourage creative thinking across disciplines by providing a space to work in group, tools to create and innovate fueled by the unique energy of Ibiza.
This summer we are offering plenty of daily activities:
Morning walks in Las Salinas …
Bikes tours exploring Ibiza from the South …
Energetic movement and contemporary dance classes …
Singing circle…
Yoga, pilates and total body workouts!

See the program and reserve your spot here!

We are also hosting several yoga retreats to come together and unite …
We are driven by the realization that humanity is facing unprecedented social, intellectual, and spiritual challenges and we'll only be able to find our way by creating, sharing and thinking together.
If you are a creative professional looking for a place to host a workshop with your community don't hesitate to contact us.
If you are an artist, a dancer, a designer, a painter, a musician, a writer, looking for a space to develop a project, please send a short description of your project along with a CV and 1 to 10 images to
Simple cuisine, local products, all made with love. Throughout the day, La Cantina serves homemade snacks that you can order to enjoy in the garden, by the pool or to take away to the beach.

Bon appetit!
We are open every day from 9AM to 10PM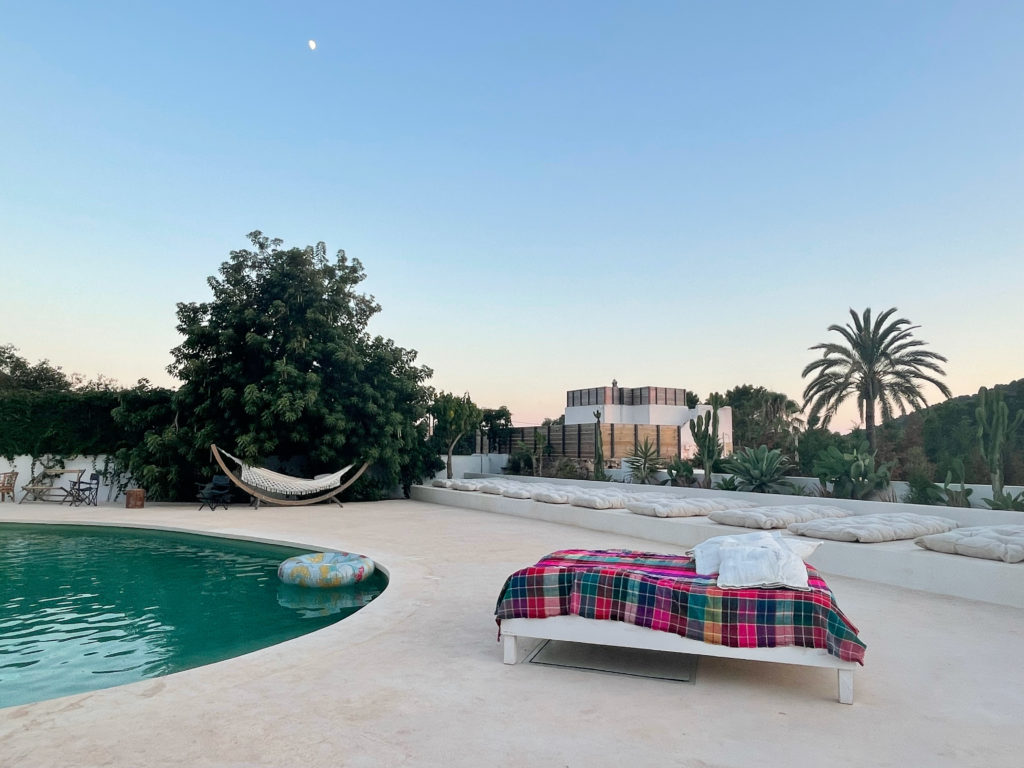 Because we picture a life where we will be collés-serrés ensemble again, having fun, building, sharing and creating happy perspectives together…
Because we love big conversations, deep contemplations, petanque festivals, cicada fetichists, cinerama mamas, bookmaniacs, dancing poets, life acrobats…

Because we picture our lives, loves and futures together, the crazy project of La Pandilla was born !
But why La Pandilla? Pandilla is the Spanish word for "a gang of" (pals, bandits or birds).
Tadam!
Sur l'île d'Ibiza…

au coeur du parc naturel des Salines, à 10 minutes à pied des plages des Salines et d'Es Cavallet, dans un grand jardin à l'ombre des palmiers, juste à gauche après les flamants roses…
2-4, Carrer de Formentera, 07817
Sant Francesc de s'Estany, Ibiza, Îles Baléares, Espagne

hello@pandilla-ibiza.com
Ouvert mas o menos toute la journée et toute l'année
Cantina : 9h jusqu'à 22h
La Pandilla identité visuelle: Prudence Dudan