… A bohemian getaway for your tribe
Our 10 whitewashed casitas, all hidden in a lush garden by the pool, are designed especially for happy bunches of friends, funky families or inspired coworkers.

Each casita is built to be comfortably shared by groups of 2 to 10 guests per casita and we can accommodate up to 65 persons! (more about)
Give me more!
You've gathered your friends, booked your flights, reserved your Casita(s). Now's the time to pimp up your stay!
Why not set up a no-fuss arrival with an airport pick-up, or a beach essential bag waiting in your casita? Or perhaps you want to make sure you can snap up a spot at our morning yoga classes with your friends?
We have plenty of activities, experiences, and extra services available to help you personalise your stay and have the best time! (find out more…)
Gather and create in Ibiza
… Move, shake, feel and explore your creativity!
La Pandilla is a place of creation for artists, local artisans and guest designers who bring the space to life throughout the year, in the form of exhibitions, workshops, art residencies and masterclasses. You'll find two modular spaces destined for the Creative Oasis program – including workshops, various activities, pop-ups, or for simply relaxing or playing ping pong.

Whether you're a curious traveller or a nonchalant nomad, move your body and get feel-good endorphins through our regular program of activities – including theatre, tango, pole dance, yoga, contemporary dance and more. Connect with others through our monthly pop-ups and events, try creative expression through our workshops, or slow down and learn more about community and creativity by listening to Radio Pandilla podcast! 
… Around the pool
The pool is the heart of La Pandilla! It's where we all gather together, have large family style dinners in the Cantina, enjoy the refreshing pool, have coffee with our feet dipped in the water, play games, drink cocktails at the pool bar, watch the sunsets and bird dances, enjoy movies on the big screen, have live music concerts, foodie pop-ups and more!
So don't hesitate, come to the pool and enjoy the Pandilla experience!
… Special offers for a special stay!
We have prepared several packages to suit those who want a different experience at La Pandilla! Whether you're a digital nomad or a company looking for a calm and beautiful place to remote work, a local needing a place for a brief getaway, we are here to invent it !
Workation
Remote work in Ibiza for a special rate! (…more info)
Pandilla es tu Casa
Islanders! gather your friends, enjoy a day at the beach, play games and drink delicious cocktails by the pool, and spend the night at La Pandilla – no having to worry about that late drive back! Dinner and breakfast included! (…more info)
Privatisation
Looking for a place to welcome up to 65 people? Privatise all 10 Casitas for birthdays, yoga retreats, working off-site or company teambuildings, corporate hire or creative content photoshoots, etc!
Half board & Full board
If you've reserved for a large group, a longer time period or in low-season, and you don't want to worry about looking for places to eat outside, contact us at hello@pandilla-ibiza.com for our half & full board offers!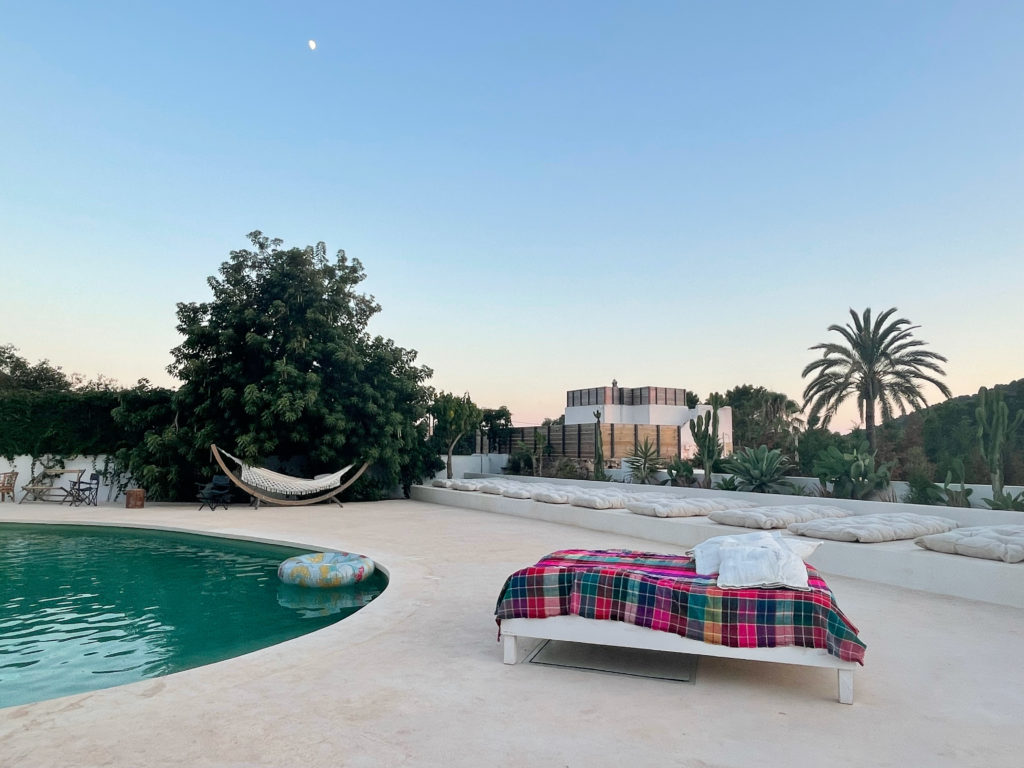 Because we picture a life where we will be collés-serrés ensemble again, having fun, building, sharing and creating happy perspectives together…
Because we love big conversations, deep contemplations, petanque festivals, cicada fetichists, cinerama mamas, bookmaniacs, dancing poets, life acrobats…

Because we picture our lives, loves and futures together, the crazy project of La Pandilla was born !
But why La Pandilla? Pandilla is the Spanish word for "a gang of" (pals, bandits or birds).
Tadam!
On the island of Ibiza…
in the heart of the Salines natural park, 10 minutes walk from the beaches of Salines and Es Cavallet, just to the left after the flamingos bronzing in the salt flats…
2-4, Carrer de Formentera, 07817,
Sant Francesc de s'Estany, Ibiza, Balearic Islands, Spain

hello@pandilla-ibiza.com
Open mas o menos all day long and all year round
Cantina : 9am till 10pm
La Pandilla visual identity: Prudence Dudan